The Inside Story
Inside each EcoSphere are active micro-organisms, bright red shrimp and algae, each existing in filtered sea water. Because the EcoSphere is a self-sustaining ecosystem, you never have to feed the life within. Simply provide your EcoSphere with a source of indirect natural or artificial light and enjoy this aesthetic blend of art and science, beauty and balance. Because the living resources within the EcoSphere utilize their resources without overpopulating or contaminating their environment, the EcoSphere requires no cleaning and only minimal care. EcoSpheres have an average life expectancy of two years. However, it is not uncommon for shrimp populations to be thriving in systems as old as 7 years.
The EcoSphere is a tiny working model of the Earth. It contains the same essential elements that are found on our planet- air, water, life (algae, microorganisms and shrimp) and land (gravel and gorgonian). Life functions in the EcoSphere just as it does on Earth. The shrimp produce carbon dioxide by "breathing"; the algae use the carbon dioxide and light to produce oxygen. Algae can only produce oxygen when there's light. When it is dark, the shrimp and bacteria are consuming the oxygen while none is being made. The EcoSphere would die with too many plants and animals, because they would run out of oxygen at night.
Along with shrimp, there is algae and filtered sea water. The EcoSphere also contains gorgonia (the non-living, branch like material) and gravel as a part of the working ecosystem. The gorgonian and gravel are a hiding place for the microorganisms- a place where they can not be eaten by the shrimp. All other areas in the water are accessible by the animals. By having more surface area for the bacteria to grow on, the eco-system has the ability to break down more of the waste materials.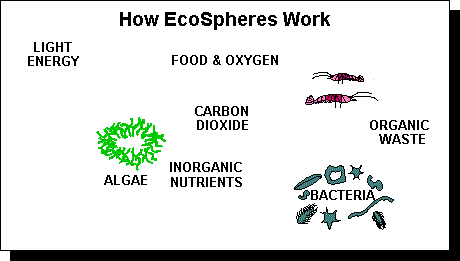 You can find it in our store located at :
139 Avenue A. New York NY.10009 Te: 212-254-5400